To All Parishioners And Our Community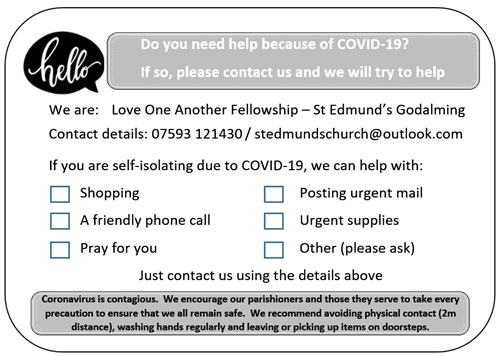 There are lots of encouraging stories at the moment of people helping neighbours with shopping and phone calls. But we are also aware that many value the sense of belonging to our parish or the invitation to do so. That someone they know perhaps only a little bit cares for them. That's one of the reasons why we have set up and are now launching the "Love One Another Fellowship".
I am delighted to announce that, following last Saturday's email, we had a good response to our initial call for helpers. Whilst waiting for offers, we have been considering what we can do to help the most vulnerable in our community. I am now pleased to say that we are ready to launch this service. Here are the details.
Who We Are Trying To Help
In the immediate future, we would ask you to consider who you know in our parish who might be vulnerable at this time or missed other support networks. These people might be our fellow parishioners, but they might also include neighbours and others who are struggling. We would like you to make them aware of the services that we are offering and how they can access these services. Please note that we are not asking people to randomly distribute leaflets. Other organisations have already done this. We would encourage a more targeted approach, using your contacts and local knowledge. We want people to know that they are loved.
Making People Aware
You can make people aware in several different ways. A friendly phone call or an email might be appropriate. Alternatively, if you CLICK HERE you will gain access to a Word document flyer with details of the contact details and services. You might like to print off a few copies and drop them round to people you know.
The Services
The proposed services are shopping, a friendly phone call, praying for or with a person, posting urgent mail and picking up urgent supplies (e.g. medicines). We will consider offering other services, so, if somebody has a particular need, please encourage them to call. Even if we cannot help directly, we may be able to find someone who can.
The Contact Details
All initial contacts are best made using the mobile number or email address on the flyer. These are 07593 121430 / stedmundschurch@outlook.com.
If You Want To Help
Apart from making vulnerable people aware of the service, we are still looking to sign up further volunteers. If you think that you might be able to help, please sign up by CLICKING HERE.
Let me finish with three points. First, needs may change over time. Somebody who is well supported today may find that they need help later. So encourage people to come back to us if this happens. Second, this is a new experience for all of us. We are learning as we go forward. We are doing and will continue to do our best with God's help and grace. Thirdly, please commit this programme, all those involved and all those they serve to God in prayer. For some of us, this experience has opened up a window of opportunity for prayer and reflection. Let's use this opportunity today to pray for the Love One Another Fellowship.
Be assured of my prayers for you and your families each and every day at the Altar of the Lord, and most especially if you are on your own or struggling.
Fr Jonathan