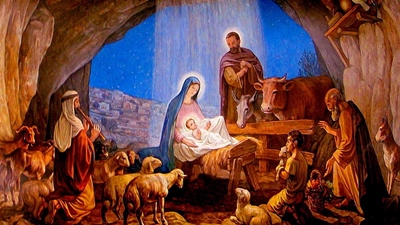 In their preparations for this Christmas children from St Edmund's School have been singing Mark Lowry and Buddy Greene's Mary Did you Know? It is a Christmas song that invites us to wonder what Mary knew of the child she wrapped in swaddling clothes and laid in the manger.
Did she know that he was indeed the promised Messiah? The one who would bring in the Kingdom of God? The one through whom all things were made? The one who would save God's people? The one who would set her free? Who would set us all free?
Let's put before our eyes the scene of Bethlehem in the silence of the night. Mary and Joseph kneeling by the manger gazing at the child Jesus. As good holy people they knew the prophecies that would be fulfilled, and had heard the greetings of the Gabriel and of Elizabeth. They were used to spending time with God in prayer and knew that he was fully with them there and then in flesh and blood. And because whenever God is present he is present to save, they knew that remarkable truth that the Son born to them was also their saviour. And their hearts overflowed with peace and joy.
The message of Christmas is this: in Jesus God comes to save us, to set us free from all that oppresses us. He comes that we may have life and have it in its fullness. He comes not only at the time when Quirinius was governor of Syria but to us in our time. Today a saviour has been born to us. Let us rejoice and be glad!
This Christmas perhaps I could encourage each of us to spend some time before the crib or a picture of the nativity. To wonder in silence and allow the child in the manger to speak to us of his love for us, his joy at being with us today, and his desire that, being fully alive we might be with him for ever. That we may have a fuller share of that wonderful rich life that is only found in Him.
Wishing you all a blessed Christmas.
Fr Jonathan