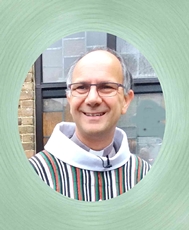 I, the prisoner in the Lord, implore you to lead a life worthy of your vocation. Bear with one another charitably, in complete selflessness, gentleness and patience. Do all you can to preserve the unity of the Spirit by the peace that binds you together.
So writes St Paul to the Ephesians in one of the readings that we hear this summer. For St Paul this is how we should live because we have all been called to share in the life of the one God and Father of all.
To be a church is to be a people who are gathered together by God. (It is in the origins of the word.) But it is this visible gathering, this being with one another, that has been made so difficult by COVID-19.
As circumstances change and we are able to cautiously gather once again we will need to express our faith through careful attention to one another. Some have been largely untouched by COVID, for others it has been a very significant trauma. For most of us these last 18 months lie somewhere in between. Some will be desperate for a hug and others will be quite fearful of just being near someone they don't live with. And so an attentive, selfless, generous and patient welcome will need to be the mark of our lives together over the next couple of months.
I invite you to seek opportunities to gather, most especially for Mass, but also for the sharing that takes place over coffee or in the park. In particular we look forward to welcoming our First Holy Communion families at the start of the new programme, to Confirmation for a group of our young people in October, and to a new series of Sycamore.
Details of some current parish activities can be found on our Covid-19 page and on the Calendar at the bottom of this page. If you would like to attend Mass at the weekend please book a place on Eventbrite: click here
For an overview of current events in the parish please have a look at the newsletter which can be downloaded here
A number of parish events take place on Zoom, often using the link here
With my blessings to you all,
Fr Jonathan How
Parish Priest