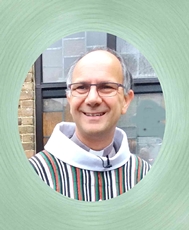 At this time we need not only the essentials that we get from the supermarket, but also spiritual food for our journey. Fortunately there is is a lot available on-line as well as in person.
There are two particular online activities that I would invite you to at the start of this year. Firstly, our pilot of the increasingly popular Sycamore programme and secondly our Wednesday praying with scripture (Lectio Divina)
Here in Godalming we are trying to keep St Edmund's Church in Croft Road open for people to drop in to light a candle, pray, and enjoy the presence of the Lord. The Lord Jesus is waiting to welcome you, to receive your prayers and petitions and feed you with his love, but most of all to enjoy your friendship.
More details of current parish activities can be found on our Covid-19 page.
Most people in the parish are being very careful at the moment and minimising their time with possible contact with others, and the main focus of parish activity has now moved online. There are still opportunities to come to Mass in person in small numbers and if you would like to attend Mass at the weekend please book a place on Eventbrite (Click here).
Certain services from St Edmund's are live-streamed on YouTube (Click here).
With my blessings to you all,
Fr Jonathan How
Parish Priest