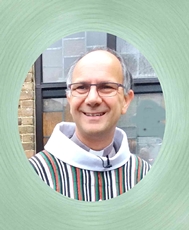 It has been so good to welcome people back to Mass over the last few weeks. After a long fast it has been a reminder of just how important it is in our lives and for the world. It may take time to get used to coming to Mass again, but it is especially there that we will find the Lord's healing and strength.
The Sunday obligation continues to be dispensed so please do not feel guilty if you don't feel ready to come back just yet – we will all adjust at our own speed and that's quite appropriate.
For the moment we are using a booking system for weekend Masses, and you will find details of the times of Mass and how to book on our Covid-19 page.
The current parish newsletter and the listing of booked places at weekend Masses can be found further down this page, below the calendar.
With my blessings to you all,
Fr Jonathan How
Parish Priest