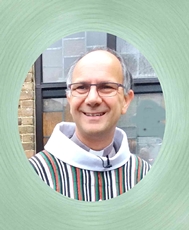 In the seventh month of the year 445 B.C. Ezra the scribe read from the Law as the people of Israel returned to worship at the temple after their long years of exile. There was great merrymaking and they feasted for seven days (Nehemiah 8). The biblical account gives a real sense of occasion and of the joy of being back home at last.
In the Gospel for the 14th Sunday of the Year we hear Jesus speak his words of invitation, "Come to me, all you who labour and are overburdened, and I will give you rest. Shoulder my yoke and learn from me, for I am gentle and humble in heart, and you will find rest for your souls."
After our period of exile from Mass and while we still carry our wounds and burdens I am pleased to be able to invite you to the celebration of the Eucharist - the Mass, the memorial of the Lord's passion, and the foretaste and promise of the Feast of Heaven. The last few months have been quite a shock to the system for many of us, and it may take time to get used to coming to Mass again, but it is especially there that we will find the Lord's healing and strength.
You will find further details of the times of Mass and how to book on our Covid-19 page. The current Parish Newsletter can be found further down this page.
With my blessings to you all,
Fr Jonathan How
Parish Priest