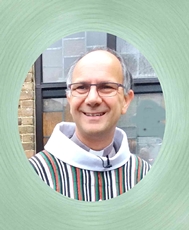 Welcome to our website. We hope that you will find it helpful in connecting with our parish community and supporting your journey in faith.
Dr Kevin Fong recently shared the story of sunrise after a long hard night shift in a London hospital in last January. The intensive care unit had expanded onto two or three other floors and it all felt very desperate and hopeless. One weekend it had snowed heavily and as he came back onto the floor many of the nurses were crowding around the window. The sun was coming up and the sky looked like it was on fire. Dawn was breaking on a dark and horrible night. It was for him a reminder that dawn always comes after the night. He shared it as his contribution to BBC's Museum of Curiosities for all those he had worked with, proud of his team and all those who had been through that night (and others) with him.
Pray this Advent for all who are in deep need of liberation. For migrants – both those trying to cross the channel and those whose dire situation is no longer news. For those who work in health and social care tired of the long fight against COVID. For those who live with chronic mental illness or pain and disease. For those who find it hard to heat their homes and feed their families no matter how many hours they work. For those who cannot shake off the effects of abuse and trauma.
Come, Lord Jesus!
Wishing you every blessing
Fr Jonathan, Parish Priest
Brief Notices
Times of Mass and other parish events can be found in the calendar below. It is no longer necessary to book a place to come to Mass at the weekend.
We are seeking the views of a wide range of people in the parish on what is important to them about the parish and its buildings. We would welcome your contribution, which you can make using the form here (or here if you are under 16)
For an overview of current events in the parish please have a look at the newsletter which can be downloaded here
A number of parish events take place on Zoom, often using the link here