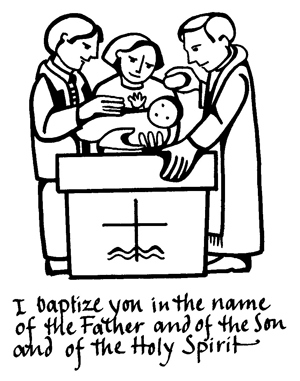 The Parish has a supportive team to help to prepare parents who would like their child to receive the Holy Sacrament of Baptism.
Parents are invited to meet with a member of the team who will discuss the arrangements for the Baptism Ceremony and provide advice on selecting godparents and so forth.
This is then followed by attendance on an informal course which takes place at St Joseph's, Milford over two evenings. Parents are given the opportunity to reflect on a number of interesting topics and to learn more about the symbolism of the Baptism Ceremony. It is also a wonderful opportunity to meet other parents in the Parish who are having their children baptised.
Baptisms usually take place at St Joseph's, Milford and benefit from occurring outside of the normal Mass time and thus being an intimate ceremony for the family and friends of the child being baptised. If your group is not too large, Baptisms can also be celebrated during the 6pm Vigil Mass at St Edmund's, or the 10.15 Mass at St Joseph's.
Naming Ceremonies are held during the 10.15 Mass at St Joseph's on the Second Sunday of each month in order to officially welcome any children who are due to be baptised into the Parish.
If you would like to discuss having your child baptised, please contact the Parish Assistant on 01483 416880.